Mission: Implausible!
"With a deadpan wit and that eye-catching outfit, Secret Agent Karen is a comic force." –Tim Smith, The Baltimore Sun.
Top Secret Agent Karen has a mission (to save the world, of course). But this mission takes two, so she will need to find a new partner.  Who will be chosen?

An interactive comedy, Mission: Implausible! utilizes Facebook, Twitter, and Skype to engage the audience in Agent Karen's effort to save the world.  Audience members contribute their intelligence to help save the day, and one lucky person is chosen to be the show's hero and spends most of the show onstage with Agent Karen having their courage and humanity proven in surprising and hilarious ways.
Watch The Promo!
See "The Heroes Next Door Video" Series!
Follow on Facebook!
Read the Press:   Baltimore Sun        Centre Daily Times        Penn State News
Past performances:
The Brick Theater's New York Clown Theater Festival, Single Carrot Theatre, Penn State Downtown Theatre, The Baltimore Theatre Project, University of Virginia and Pittsburgh's CREATE Arts & Technology Festival in partnership with the 3 Rivers Arts Festival: Details Here!
---
Zooma Zooma Zoom Zoom Zoom with Philip O'Hara!
Join Philip O'Hara and his panel of experts as they take a shallow deep dive into the latest hot topics! Available on all your social media platforms!
WATCH:
---

TiVo La Resistance!
Shhh! Look behind you! Read this quickly then burn it. Top-secret meeting! Hush Hush. On the down-low. Pass it on.
Bring the Resistance to you!
---

FAMOUS!
Hip-Hop-Bubble-Wrap-Rap-Specialist Karen walks the red carpet.
Created & performed by Sandi Carroll, Directed by Jane Nichols.
Past Performances:  The Huron Club at Soho Playhouse with Artistic New Directions, Dixon Place, The Brick's Clown Festival, La Mama The Heat is On!, and New York Downtown Clown Revue.
---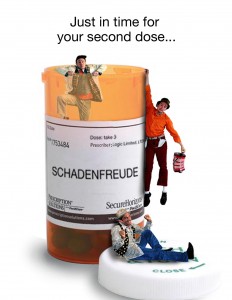 SCHADEN, FREUDE, & YOU: A Self-help Seminar
Created by Logic Limited, LTD.
Performed by Sandi Carroll, Brad Frazier, & Chris Arruda (and sometimes David Jones and Jennifer Kidwell)
Directed by Jane Nichols
Schadenfreude \SHOD-n-froy-duh\, noun: 1. largely unanticipated delight in the suffering of another 2. over the counter cultural anti-depressant 3. self-help seminar exploring the healing powers of schadenfreude conducted by three leading professional experts in the field.
Logic Limited, LTD. has just the tonic for these tough times. Learn how to harness the full potential of schadenfreude, and bring some unanticipated delight into your life! Join us for the self-help seminar that's guaranteed to self-destruct. "This is definitely clown theater for adults and you won't miss the elephants a bit!" – NYTheater.com
Past Performances: The Brick Theater and Dixon Place.
---
Faux: An Auto-Spy-Ography A film in production
Based on the real (and often surreal) experiences of the struggling actors who regularly patrol the mysterious streets of Chinatown wearing wigs and fake mustaches as they spy on merchants who sell counterfeit watches, these stories go undercover inside the bizarre world of one of the most challenging acting jobs in New York City. FAUX explores the endless possibilities for intrigue and self-discovery that occur in a counterfeit world where everyone is hiding something.